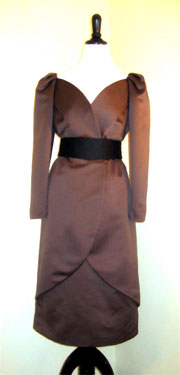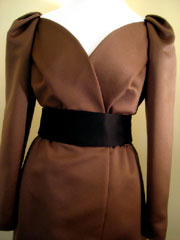 1980's Luis Estévez Brown Silk Cocktail Dress

This dress is so modern and elegant looking! The epitome of chic in an unexpected chocolate brown color. Gorgeous petal like design in front is so ladylike and flattering. Feminine 'V' neck front. Black silk sash ties around the waist. Long puff sleeves with lovely silk covered buttons. Zipper back.

• Era: 1980's
• Condition: Mint
• Size: 10 - Waist- 29", Length- 43"
About the designer:
According to Answers.com, Luis Estévez developed a clientèle of well-known women, including Lana Turner, Rosalind Russell, Betty Ford, Nancy Reagan and Eva Gabor. Throughout his career, Luis Estévez's designs celebrated the glamor he cultivated in his personal life. His clothing was further distinguished by individual craftsmanship as well: cut out neck designs, unusual angles like Os or Vs or in the shape of daisy petals, the edges of the fabric appearing jagged. The 1950s remain his favorite period of fashion because women looked feminine and life was beautiful. He believed, and still does, that clothing should flatter the person wearing it—otherwise fashion is more like a costume and not worth designing.
In February 2001, in commenting on his life in fashion design, Estévez said: "As I review my career, the first thing that comes to mind are my many fashion firsts and my talent's built-in drive and dedication to doing things as they had never been done before—all without fear of failure." Indeed, Estévez did go where designers had never gone before—heralding the future of fashion shows with bold, dramatic extravaganzas, the likes of which are rarely seen today. Though new, hip designers like Viktor & Rolf could be considered heirs to Estévez' lavish style, his dedication and singular designs remain unique.